Edmonton Wrap-Up
As promised, here's a little look into my recent foray to Oil Country. As I mentioned previously, it was crummy weather almost the entire time. However, I did manage to get a few good pics on my way through Jasper. I had heard about the wildlife in the park, and how they pretty much ignore those pesky humans and their cameras, but I had no idea it was quite like this (Click to enlarge all photos).
The cariboo were eating the grass right beside the highway. I swear I could have reached out and touched them.
And the antlers on those things? Wow. Huge.
As dozens of tourists and photographers snapped away, the cariboo simply carried on about their business, merely ignoring the excitement going on around them.
If only the weather would have been better, I would have taken more pictures of the various towns I went through, as well as the city of Edmonton itself. It has become clear to me why the middle of October is not exactly peak-tourism season in central and western Alberta! This was the view from my hotel room. "Overcast" doesn't quite describe it.
We probably had the worst room in the entire place. It sounded like there was a drier vent right outside our window... and there was! Normally when I fall asleep, I am out until my alarm goes off, but the second night there I couldn't sleep, and the sound of that rotten vent was magnified by a thousand. So, when 5:30 rolled around I decided that I had had enough. I put on some clothes and went for a little stroll.
Looking down 51st Ave and Gateway Boulevard:
Did I mention it snowed? Yeah, it snowed.
Ahhh, Tim Hortons. The last refuge of the
scoundrel
tired and weary traveler, as well as those hard-working souls on their way to financial prosperity. For the longest time I thought Smithers had the worst Tim Horton's in Canada. Not that the food is bad, mind you, but the service is quite lacklustre, and it is blatantly obvious that none of the employees actually want to be there. Imagine my horror when I discovered the same is true in Edmonton! There were four or five employees working (keeping in mind this is around 6 in the morning) and all of them looked ready to go postal... errrr, "go donut" perhaps is more appropriate. It wasn't even very busy! At any rate, the service was a little slice of Smithers, right there in Edmonton. Warmed my heart, really.
Naturally, I took a few pictures at the hockey game. My heart, which had been previously warmed, was devastated upon hearing that Roberto Luongo would be sitting this one out. Dany Sabourin would be getting the start in goal for the Canucks. Indeed... Dany Sabourin...
Dany Sabourin of the "
two goals in two shots in one minute
" fame. Yeah, THAT Dany Sabourin. He looked good in
warm-up though!
Obligatory Luongo pic...
The most exciting part of the game was the opening faceoff.
After that it was a complete blur until the last five minutes. Apparently a game went on in between, but it was really anti-climatic. Nonetheless, the beer was only six dollars, as opposed to seven at GM Place!
On Wednesday afternoon, we made the trek to West Edmonton Mall. We managed to kill about eight hours there, several of which were spent here, at Ed's Rec Room (formerly known as Reds).
We also ventured through
Galaxyland
, and enjoyed both the "Space Shot" and the "Mindbender" roller coaster. Fortunately, on Wednesdays they have a special price of $9.95 for a day pass. It would have been $26.95 any other day. Yergh!
The return trip saw even heavier rain than before, but also some brief and beautiful clearings that gave me the opportunity for more sight-seeing. Offered without any further commentary, Jasper National Park: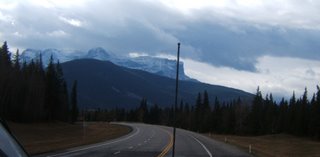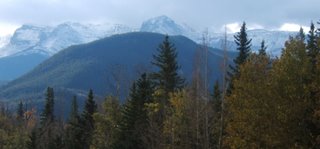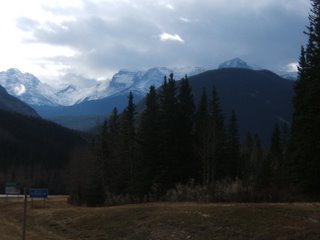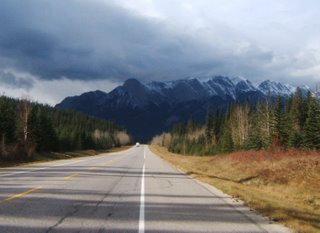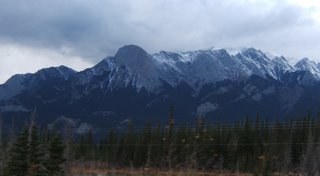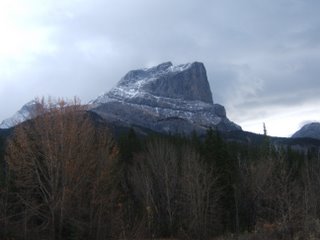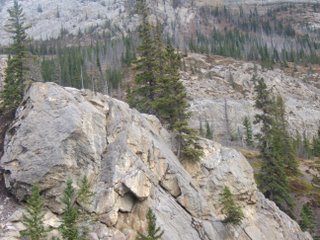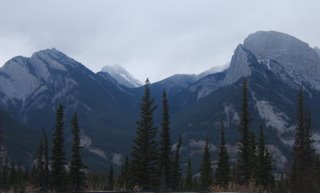 Oh! I almost forgot! On the way home, we happened to meet some of the Edmonton Oilers in Jasper too. It was pretty exciting for both of us, and even though we are ardent Canuck fans, whenever you get a chance to say hello to an NHL star, you simply must do it!
To conclude my little Edmonton Trip Recap, I'd like to thank Ales Hemsky, Petr Sykora, Fernando Pisani, and Ryan Smyth for allowing me to take their pictures in their natural habitat. Thanks guys!